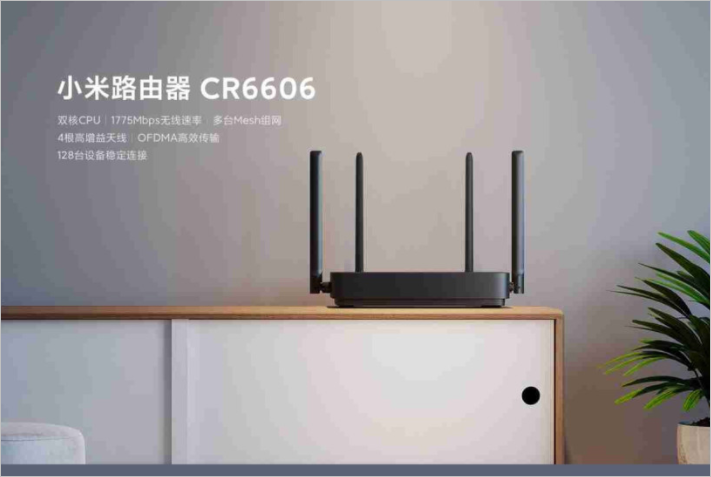 The Xiaomi WiFi 6 Router CR6606 is equipped with a dual-core four-thread 880MHz processor, which can easily support the flow of data in gigabit. It also comes with Ethernet ports and gigabit dual-band WiFi with lower network latency. The router uses 256MB large memory to ensure the stability of data transmission. It can stably connect 128 devices without pressure.
The Xiaomi router CR6606 adopts a new generation of Wi-Fi 6 technology, with a dual-band concurrent wireless rate of up to 1775Mbps, which is 52% higher than that of mainstream AC1200 routers. It uses a full mega-network port to make full use of every mega bandwidth. It equally supports OFDMA efficient transmission, reduces network congestion and enables smoother internet access on multiple devices. The router is equipped with four external 5dBi high-gain omnidirectional antennas with a reasonable structure layout. It supports LDPC error correction algorithm, significantly enhancing the anti-interference ability and signal coverage during data transmission.
Xiaomi router CR6606 supports Mesh networking, 5GHz WiFi, even network cable can be used to connect the router. the theoretical rate of wireless networking is as high as 1201Mbps, and multiple routers can form a star, chain or wired and wireless hybrid network. If there is a change in the routing equipment of the channel network, the network can be actively re-synced to ensure a stable Internet experience. At the same time, it supports Xiaomi's smooth connection function, and smart devices can easily get access to the network with just the click of a button.
Source