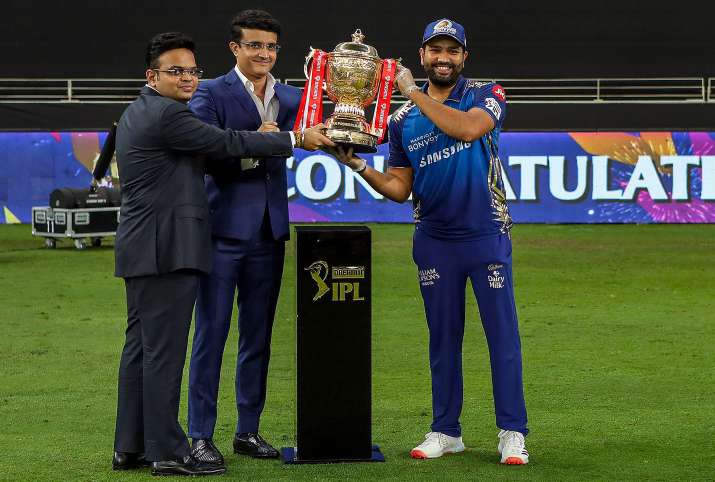 BCCI president Sourav Ganguly has clarified once again that Indian opener Rohit Sharma is not yet at his 100 per cent after the Mumbai Indians captain suffered a hamstring tear mid-October during the IPL 2020 in the UAE.
Since his injury, the batsman was first dropped from the India tour of Australia squad entirely while KL Rahul was made the ODI and T20I vice-captain.
However, Sharma soon returned to the ground, playing last three games of MI's IPL 2020 campaign, including match-winning 68 runs against Delhi Capitals in the final in Dubai.
The opener was soon picked for the Test squad with skipper Virat Kohli opting out of the last three matches over paternity leave.
Ganguly re-affirmed that Rohit isn't at his best yet and needs more time to recover.
"Rohit is still 70 per cent (fit). Why don't you find out from Rohit himself? That is why he is still not picked for the ODIs and T20s down under. He has been added to the Test squad," Ganguly told The Week.
"Rohit is injured at the moment. Otherwise, why would we leave out a player like him? He is the vice-captain of the national (limited-overs) team. "
"We will have to assess him. I don't know (when he can come back). He hasn't played so far since the time he has got injured. We want him to recover. It's the BCCI's job to get their best players on the park. If he recovers, he plays."
While BCCI is often accused of lack of transparency on players' injury, Ganguly fumed saying people don't understand how BCCI works and talks rubbish. He further explained that Wriddhiman Saha, who suffered hamstring tear as well while featuring for Sunrisers Hyderabad at the IPL, is travelling with the team because he will be fit for the Test matches.
"Who should know (about player injuries)? We know, the Indian physio knows, the NCA knows," Ganguly said. "I think people don't know how the BCCI works. The BCCI trainers, physio and Wriddhi himself know that he has two hamstring issues. People don't understand injuries, that is why they talk rubbish.
"Wriddhi is travelling to Australia because he will be fit for Tests. He is not part of the shorter formats. For the entire duration of the IPL, Indian physios and trainers were in Dubai. [India physio] Dr. Nitin Patel is managing injuries and monitoring it all," Dada said.
Source