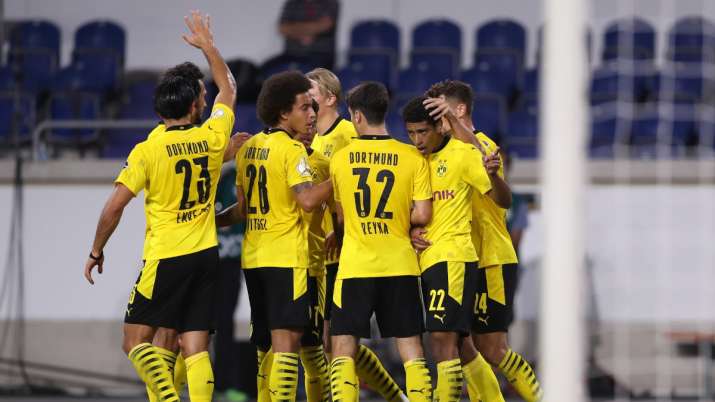 Jude Bellingham scored on his Borussia Dortmund debut to help his side reach the second round of the German Cup after routing third-division MSV Duisburg 5-0 on Monday.
Dortmund's task was made easier when Duisburg defender Dominic Volkmer was sent off for chopping down Erling Haaland in the 38th minute.
Jadon Sancho opened the scoring with a penalty in the 14th minute, and Thorgan Hazard set up Bellingham with his heel in the 30th. The 17-year-old Bellingham, who joined from Birmingham City in the offseason, was fortunate to see his shot rebound in off Duisburg goalkeeper Leo Weinkauf.
Volkmer brought down Haaland and Hazard made it 3-0 from the free kick, curling it inside the top corner.
Dortmund had to wait till the 50th for American midfielder Giovanni Reyna, also 17, to score his first goal of the season.
Marco Reus went on in the 57th after seven months out injured and the Dortmund captain scored three seconds later, taking Sancho's perfectly played free kick and converting past Weinkauf.
Just 300 fans were allowed to attend the game due to coronavirus precautions.
Earlier, Dynamo Dresden defeated Hamburger SV 4-1 in front of an official tally of 10,053 fans for the biggest attendance at a German soccer game since the restrictions began in March.
Yannick Stark scored in the third minute for Dresden's earliest ever German Cup goal, and Robin Becker and Christoph Daferner added two more.
Read