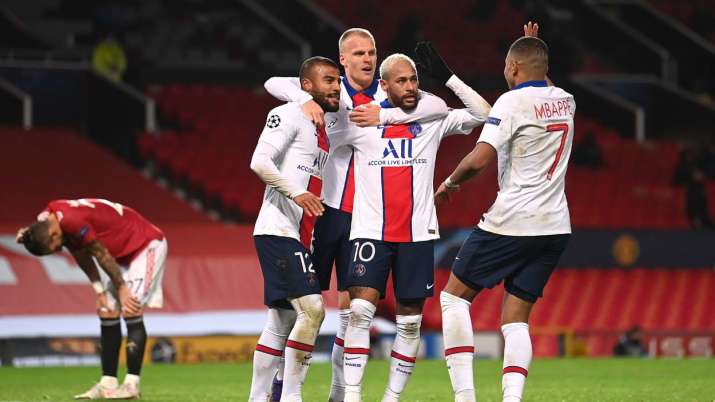 Cristiano Ronaldo scored his 750th career goal. Olivier Giroud put on a four-goal masterclass. Neymar got the goals that mattered most to leave Manchester United facing a possible Champions League exit.
Neymar scored early and late at Old Trafford as Paris Saint-Germain won 3-1 in the latest bout of a fierce Champions League rivalry to take control of its destiny in Group H.
United was left to regret not substituting midfielder Fred who seemed lucky not to be sent off in the first half when head-butting PSG's Leandro Paredes.
Fred finally saw a red card in the 70th minute just as United tried to come back from PSG taking a 2-1 lead through another Brazilian, Marquinhos.
PSG and United are joined on nine points by Leipzig, which got a stoppage-time winning goal to beat İstanbul Başakşehir 4-3 in a thrilling game.
United has perhaps the toughest task in the final games next Tuesday, traveling to Leipzig while PSG hosts Başakşehir.
Borussia Dortmund was the only team to advance Wednesday, drawing 1-1 at home against Lazio to become the ninth team in the round of 16.
Juventus was already safely into the next round before Ronaldo marked his 750th goal for his clubs and Portugal. It was a simple tap-in at the far post in a 3-0 win over Dynamo Kyiv.
Chelsea and Sevilla had also advanced before Giroud tore apart the Spanish side on its home turf. The France forward's perfectly balanced quadruple came from shots with his right and left feet, a header, and then from the penalty spot.
Read