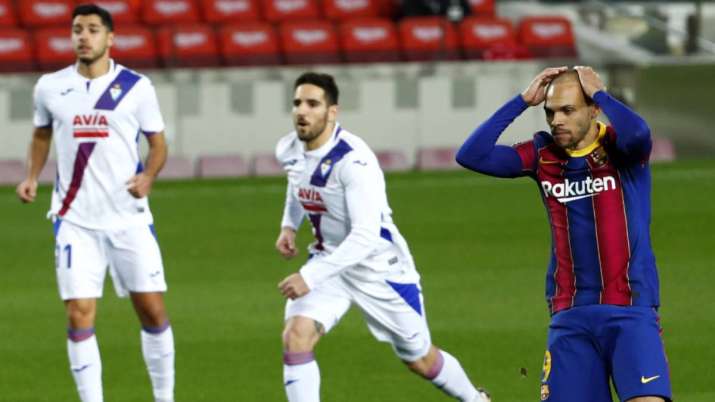 With Lionel Messi nursing his ankle in the stands, Barcelona fell further behind in the Spanish league on Tuesday after ceding its first-ever point to Eibar at Camp Nou.
Halftime substitute Ousmane Dembele salvaged Barcelona a 1-1 draw when he scored in the 67th. That canceled out Kike García's opener 10 minutes earlier after a ball-control blunder by center back Ronald Araújo.
A second consecutive home draw meant Ronald Koeman's side slipped into sixth place after Sevilla moved into fourth with a 2-0 win over Villarreal, which fell into fifth.
Front-runners Atlético Madrid and Real Madrid are seven points clear of Barcelona before they play matches on Wednesday.
"Being realistic, the league title is very complicated. Nothing is impossible, but we must recognize the gap," Koeman said. "We were missing Leo, who is always decisive, but the sensation I have is 'how is it possible we didn't win?' We created chances, missed a penalty, and gave away a goal that was their only shot on target."
Messi was forced to watch the game tucked in a winter coat with the reserves because of an unspecified right-ankle problem. It is not reported to be serious.
Already without Ansu Fati and Gerard Pique because of serious injuries, Barcelona also lost midfielder Philippe Coutinho in the final minutes with what appeared to be a left knee injury.
Source