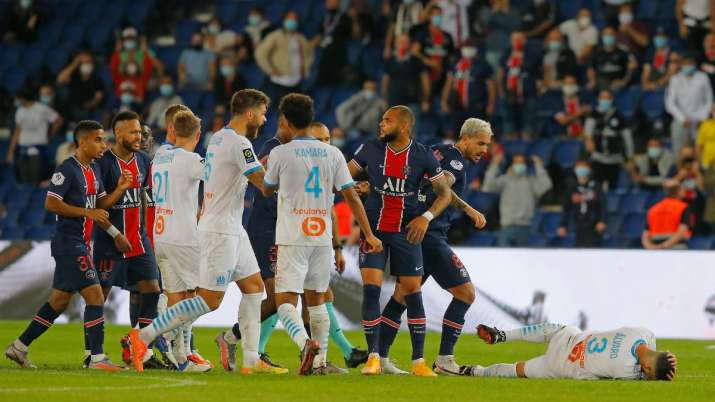 Neymar was among five players sent off in stoppage time Sunday as Marseille beat bitter rival Paris Saint-Germain for the first time in nine years.
PSG star Neymar got a straight red in Marseille's 1-0 win following an altercation with center half Alvaro Gonzalez. Neymar was sent off following a video replay showing he aimed a jab to the back of Gonzalez's head.
As he went off, Neymar told officials that he had been racially abused.
"It's a serious wrongdoing if that's the case but I don't think so," Marseille coach Andre Villas-Boas said. "What we saw, what was visible, is that (Angel) Di Maria spat (on Gonzalez)."
With apparent reference to Gonzalez, Neymar later tweeted "The only regret I have is not hitting the face of this idiot." In a later tweet, Neymar said "It is easy for the VAR (video review) to see my 'aggression'" and added he was subjected to offensive insults of a racist nature.
"Neymar told me that it was a racist insult. I didn't hear anything on the field," PSG coach Thomas Tuchel said. "Racism in life, in all domains, in sport, should not exist."
Read