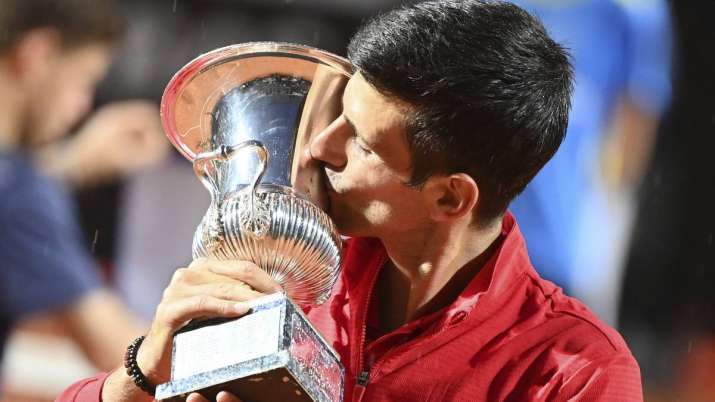 For four or five days after being defaulted from the U.S. Open, Novak Djokovic did some serious soul searching.
Then he got back on the tennis court — and since then it's been fairly straightforward, at least in terms of results.
Dropping only one set all week, Djokovic won his fifth Italian Open title on Monday after beating Diego Schwartzman 7-5, 6-3 in the final, and restored his confidence heading into Roland Garros, which starts in six days.
"I did experience mentally some kind of ups and downs in the first four-five days after that happened. I was in shock," Djokovic said of the default 15 days ago for unintentionally hitting a line judge in the throat with a ball in a fit of anger.
"But I moved on and, really, I never had an issue in my life to move on from something. Regardless how difficult it is I try to take the next day and hope for the best and move on. Having a tournament a week after that happened helped a lot ... just because I really wanted to get on the court and just get whatever traces of that — if there's any — out, and I think I had a really good week."
The only real issue for Djokovic this past week was his behavior again.
He received warnings from the chair umpire for smashing a racket in the quarterfinals and for foul language in the semifinals.
Still, Djokovic improved to 31-1 this year — with his only loss against Pablo Carreño Busta in the match where he was defaulted. He also passed childhood idol Pete Sampras for the second-most weeks at No. 1 with 287 — and trails only Roger Federer's 310 weeks in the top spot.
Read